The Premier League returns this weekend with some mouthwatering fixtures. To start off Saturday, the reigning Champions in Leicester City travel to Old Trafford to take on the record 20-time England champions, Manchester United. It'll be a big test for Jose Mourinho to see if he can get their title bid back on track, but it might be Claudio Ranieri's side to steal the show at the Theatre of Dreams.
Then later on in the day, Arsenal and Chelsea renew their longstanding rivalry at the Emirates Stadium. Meanwhile, the league leaders Manchester City are looking to topple Swansea City for the 2nd time in 4 days, and preserve their perfect start to the campaign. All theses matches should be terrific ones, but here's this week's preview of all 10 around the Premier League.
Manchester United v Leicester City (Sportsnet, 7:30 A.M. EST Saturday)
Manchester United have suffered back-to-back defeats in the Premier League, and as a result have fallen 6 points behind the early pace-setters, Manchester City. The Reds enjoyed an excellent start to the campaign, winning the Community Shield before securing 3 consecutive league victories, but that run was halted in the Manchester derby. The repercussions of that disappointing result have evidently carried over, as United then presumed to lose at Feyenoord in the Europa League, before losing 3-1 to Watford last Sunday at Vicarage Road. That run of 3 successive defeats in all competitions was stopped on Wednesday in the EFL Cup, as United beat third-tier Northampton Town, but they remain under pressure to get back to winning ways in the league.
Jose Mourinho knows that his side can ill-afford to lose further ground on their title rivals, and he may opt to make several changes to his lineup for Saturday's match. Left back Luke Shaw could be out due to a nagging groin problem, meaning his absence might be enforced. But a string of poor performances from captain Wayne Rooney have left his starting place in jeopardy, while Paul Pogba's world record £89 million price tag may be the only thing preserving his midfield spot after his recent lackluster displays. At the same time Marcus Ashford, the 18 year-old sensation, continues to make a compelling case for his inclusion in the starting XI.
While Mourinho continues to search for his best lineup and formation, the same cannot be said for the reigning league champions, Leicester City. Manager Claudio Ranieri has stuck to the same 4-4-2 formation which delivered the title last season, and despite a slow start, the Foxes have won 2 of their last 3 matches. The Algerian international, Islam Slimani, netted twice last weekend in their 3-0 home win over Burnley, and his towering presence will pose a challenge for a suddenly shaky Manchester United defence. Ranieri made a flurry of changes to his side for their midweek defeat to Chelsea in the EFL Cup, but he will be hoping to condemn United to another painful result.
Leicester looked unfocused and unprepared in their last league match that preceded their midweek Champions League commitments though, and it cost them as they were thumped 4-1 at Liverpool.  With the Foxes hosting FC Porto on Tuesday, Ranieri must make sure that all of his players are not looking past the trip to Manchester, or else the same sort of drubbing may await them. Old Trafford has not been a happy hunting ground for Leicester City in the past. The Foxes' last victory at the iconic stadium was in 1998, and they have lost 6 of their last 7 visits there (L6 D1).
Last season, both matches between the sides ended in 1-1 stalemates, and whilst Ranieri would probably be satisfied if there were to be a repeat of that result on Saturday, the same cannot be said for his Portuguese counterpart. The last time Jose Mourinho lost 3 matches on-the-trot, he went on to claim the Portuguese league title, the UEFA Cup (now known as the Europa League), and the UEFA Champions League within a span of 18 months. As unlikely and silly as it may seem, the omens of this dreadful losing streak may prove to be in Manchester United's favour after all.
Prediction: 2-1
Middlesbrough v Tottenham Hotspur (Sportsnet One, 10 A.M. EST Saturday)
Middlesbrough's last victory came over a month ago, and Aitor Karanka will be hoping that his side can take advantage of a Tottenham Hotspur team missing talisman Harry Kane.  The England striker suffered an ankle injury in last Sunday's victory against Sunderland at White Hart Lane, and he looks set to be sidelined for weeks. Middlesbrough's defenders will be thrilled about that news, as they have struggled to contain some of the league's better centre-forwards in recent weeks.
The Belgian pair of Christian Benteke and Romelu Lukaku each scored for their respective clubs during Middlesbrough's last 2 defeats to Crystal Palace and Everton. Kane's absence is bad news for Spurs though. Other than the 4-0 shellacking of the Premier League's bottom club Stoke City, Tottenham have only scored once in each of the other 4 league fixtures so far.
It's not all bad news for Mauricio Pochettino's men though. They remain unbeaten, and have been quite strong defensively, enabling them to sit in 3rd in the table on 11 points. But a trip to the Riverside will be far from straightforward and even though Heung-Min Son has been performing brilliantly of late, the absence of the in-form Harry Kane could lead to some dropped points for Tottenham here.
Prediction: 1-1
Bournemouth v Everton (TSN5, 10 A.M. EST Saturday)
After a terrific start to their campaign, Everton were brought back down to Earth on Tuesday after being ousted from the EFL Cup in a surprise 2-0 home defeat to Norwich City. The club from the Sky Bet Championship punished their Premier League rivals' lax defending, and although Everton had not fielded a full-strength side, Norwich had also freshened up their lineup by making 10 changes from their previous match.
Understandably, Toffees boss Ronald Koeman was scathing with his players' defending, and he will demand a significant improvement for Saturday's trip to Bournemouth. Everton have won 4 successive Premier League matches, and the last time the club managed to win 5 league games in a row was in March/April 2014, when they went on to win 7 consecutive contests. With the Merseyside club sitting in 2nd place, there have been a few suggestions in some quarters that they can repeat Leicester City's feat and claim the unlikeliest of league titles, although Koeman was quick to downplay such talk – labeling it as "crazy".
Bournemouth was also knocked out of the EFL Cup by a second-tier opposition on Tuesday, as they fell 3-2 at home to Preston North End. The Cherries have not kicked into gear so far this season, winning just once in the league, and they seem to be lacking some defensive nous, as well as the necessary cutting edge in attack to trouble opposing defences. The Cherries were ripped to pieces last Saturday by Manchester City, and Eddie Howe should be concerned at the fact that his side offered very little resistance in the defeat. There is no shame in losing away from home to a title contender, but Bournemouth were just disastrous in terms of their collective defensive performance. They will need to tighten things up because Everton are flying at the moment. Last season's match between the sides ended in a thrilling 3-3 draw, and there will surely be some goals at the Vitality Stadium on Saturday.
Prediction: 2-2
Liverpool v Hull City (Sportsnet, 10 A.M. EST Saturday)
Liverpool are playing some of the finest football in the league, and Jurgen Klopp's side are currently reaping the rewards of their high octane style of play. The Reds have come through a tough spell of matches in good shape, and they will want to now ensure that their performances remain at a consistent level.
A home game against relegation favourites, Hull City, looks appealing on paper, but in truth, it is these types of matches that have often caused tremendous difficulties for Liverpool. For their part, Hull City are no slouches either. Despite suffering a 4-1 defeat to Arsenal last week, the Tigers were down to 10 men, and they remained in the contest until the final 10 minutes of the game before the Gunners blew it open. Jake Livermore's red card for handling a shot that might very well have been saved was a tad harsh, but his absence will mean that Mike Phelan will have to reshuffle his starting XI.
Having collected an admirable tally of 7 points from their opening 5 fixtures under tough circumstances, this match is a bit of a free-swing for Hull. They are not expected to come away with anything from Anfield, and all of the pressure is on Liverpool to win. Phelan will make sure that his side are organized and hard to break down, but in-form Liverpool have a vast array of attacking options and should win comfortably.
Prediction: 3-0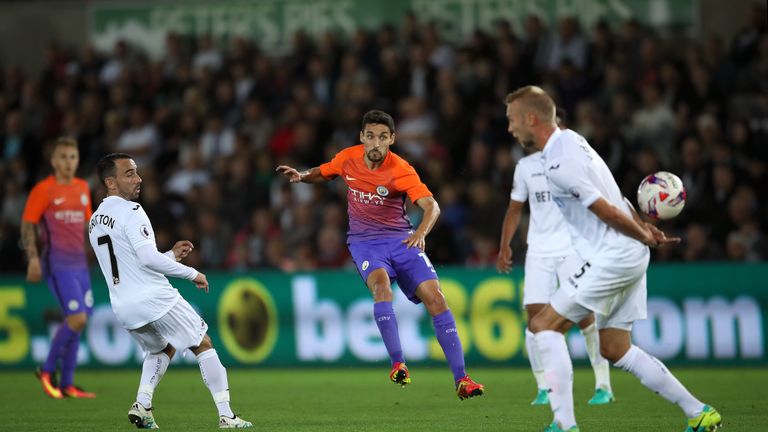 Swansea City vs Manchester City (TSN1, 10 A.M. EST Saturday)
This is a repeat of Wednesday night's EFL Cup clash. Swansea City put up a fight, but Manchester City continued their perfect start to the season by winning 2-1. There have been rumours circulating around that Swansea manager Francesco Guidolin has lost the respect of his squad due to his alleged lack of professionalism, as well as his training methods. Yet, the Italian insists that he has a good relationship with his players.
After a fortuitous 2-2 draw versus Chelsea a fortnight ago, the Swans were defeated last weekend at Southampton. In the end, the 1-0 loss did not tell the whole story as it actually flattered Swansea. The Welsh side offered very little throughout the match, and a repeat of such of a tame performance against Manchester City could prove to be the end of Guidolin's reign at the Liberty Stadium. After Saturday's game, Swansea hosted Liverpool before travelling to the Emirates Stadium to take on Arsenal. If the Swans' fail to win any of their next 3 league fixtures, it would mean that their last league victory will have been over 2 months ago – back on August 13th at Burnley. There is no way that Guidolin can save his job unless his side makes immediate and dramatic improvements. It looks unlikely, but stranger things have happened.
As for Manchester City, they are in tip-top shape. Sergio Aguero's return from his 3-match ban will bolster the side. The players have quickly adapted to their new manager's demands, since they are in 1st place, and it's obvious they'll try to keep their perfect record for another week, at least. Tougher tests lie ahead, but in the meantime, City should coast to victory on Saturday.
Prediction: 3-0
Stoke City v West Bromwich Albion (TSN3, 10 A.M. EST Saturday)
Well, so much for boring old Tony Pulis. West Bromwich Albion were last week's main entertainers, as they beat West Ham United 4-2. After building a 4-0 lead, Albion were pegged back twice in the 2nd half, and it made for a nerve wracking final half-hour for the home supporters at the Hawthorns.
Pulis has been under pressure to deliver a more exciting brand of football at West Brom, and whilst it is not his forte, he will have been pleased to see his side score 4 times and pick up a valuable 3 points. The Welshman deserves much more credit than he receives for all of the work that he has accomplished as a manager, and while some question his ambition it must be noted that when given the chance to properly instill his methods over a few years, he has been able to achieve relatively big things with modest players and little spending. He proved this at Stoke City, Albion's opponents on Saturday, when he guided the Potters to the 2011 FA Cup Final, as well as a Europa League round-of-32 place against Valencia in the subsequent season. Those lofty heights have yet to be repeated by his successor at the club, Mark Hughes.
Hughes has altered the club's playing style and made them easier on the eye, but things are falling apart this season. If defensive improvements are not made, Stoke looks unlikely to be able to match or better their 3 successive 9th place finishes in the Premier League. The Potters have conceded a league-high 14 goals already this campaign (in just 5 matches), and as a result, sit at the bottom of the pile in 20th place. Pulis' teams are always identifiable by being organized and strong defensively, and these characteristics appear to currently be non-existent at the bet365 Stadium. Hughes' job is not on the line yet, but their winless run may not end with their former boss in town.
Prediction: 1-1
Sunderland v Crystal Palace (TSNGo, 10 A.M. EST Saturday)
Sunderland are giving it their all, but they keep coming up short. David Moyes has already admitted that this season will be another relegation scrap for the club, and it is clearly looking that way. The Black Cats lost 1-0 last week at Tottenham Hotspur, and while they were organized and quite industrial, they did not show too much ambition even when they fell a goal behind. There isn't much difference if a game is lost 2-0 instead of 1-0, so why didn't David Moyes change his game plan and ask his side to chase the game and press Spurs higher up the pitch?
It probably might not have paid dividends, but at least it would have shown a bit of desire. Instead, Sunderland just continued to sit off and meekly surrendered despite putting in a respectable defensive performance.
Saturday's match will not be easy either, as Crystal Palace are the visitors at the Stadium of Light. Alan Pardew's men have suddenly turned their season around with back-to-back league wins against Middlesbrough and Stoke City. The summer additions of Christian Benteke and Andros Townsend have boosted the Eagles' attacking options, while Wilfried Zaha continues to develop and improve his all-around game. Sunderland can take heart from the fact that Palace have yet to record a clean sheet in the league this campaign, but the side from south London are red hot at the moment, and it will take a collective team performance if Sunderland are to tame them.
Prediction: 1-1
Arsenal v Chelsea (TSN, 12:30 P.M. EST Saturday)
Chelsea have been Arsenal's chief tormentors in the past few years, winning 8 of the last 14 fixtures between the sides (in all competitions). Arsenal have only been victorious on 3 occasions against the Blues since 2010, and one of those wins came in the last season's semi-competitive curtain raiser, otherwise known as the Community Shield. To compound the Gunners' misery, they have not beaten Chelsea at the Emirates Stadium since 2010.
Recent history is definitely in Chelsea's favour, but Arsenal are gathering momentum after a wobbly start to the campaign. Arsene Wenger's decision to sign Granit Xhaka from Borussia Monchengladbach is paying dividends, with the Switzerland international adding some much-needed balance and steel to the club's midfield ranks. Xhaka has already demonstrated an ability to operate as a deep-lying holding midfielder, as well as a box-to-box player who can contribute offensively and defensively. His composure on the ball is superior to that of fellow midfielder Mohamed Elneny, whilst his ability to anticipate danger and get around the pitch is far more efficient than Francois Coquelin's somewhat erratic style. Having also already scored 2 sumptuous goals from long-range using his sweet left foot, Xhaka has surely now done more than enough to be considered alongside Santi Cazorla in Wenger's first choice central midfield partnership. His presence will be critical if Arsenal are to improve their dismal recent record against Chelsea.
Diego Costa is the Premier League's joint-leading scorer with 5 goals, and Xhaka will need to shield the defensive line behind him by breaking up play and preventing penetrative passes from reaching Costa. The Chelsea striker has been in excellent form this season, and he will surely look to cause all sorts of problems to the Arsenal centre half duo of Laurent Koscielny and Shkodran Mustafi. Chelsea manager, Antonio Conte will be hoping that captain John Terry is fit enough to start on Saturday, and he will demand that his side put in a much-improved display after their insipid showing in last week's 2-1 defeat at Anfield. There appears to be very little between both teams here, and it just might take a moment of individual brilliance to separate the sides. Diego Costa, anyone?
Prediction: 1-2
West Ham United v Southampton (Sportsnet World, 11 A.M. EST Sunday)
West Ham United needed a late winner from Dimitri Payet to scrape past fourth-tier Accrington Stanley on Wednesday in the EFL Cup. All is clearly not well at the club, and with tensions continuing to run high over the problems that the new London Stadium has caused, chaos has ensued. Slaven Bilic is aware that his side needs to improve quickly, but Sunday's visitors Southampton will surely have different plans in mind.
The Saints have finally gotten their season up and running, and they will be aiming for a 4th straight win (in all competitions) this weekend.  Charlie Austin is back amongst the goal scorers, while Shane Long's relentless persistence and work rate continues to unsettle opposing defences. And with Dusan Tadic back in form, everything is progressing smoothly for Claude Puel now. Since moving to the London Stadium, West Ham have lost some of the fear factor that they had at the Boleyn Ground, and while Southampton should not be daunted by Sunday's trip to the capital, they should beware of a possible Hammers' backlash.
Prediction: 2-2
Burnley v Watford (TSN4, 3 P.M. EST Monday)
Through 6 matches in all competitions so far this campaign, Burnley have only scored 3 times, and there's a caveat to that figure. Of those 3 goals, 2 of them came in a single match (2-0 victory over Liverpool), meaning that in the 5 other games Burnley have netted just once. The Clarets were relegated 2 seasons ago from the top flight after they scored at a paltry rate of 0.74 (goals/game) throughout the whole campaign, and if they are to avoid a similar ending this time around, they have got to score more goals. It's as simple as that. Sean Dyche has got a group of hard working players, but they need to find an extra gear in terms of quality if they are to survive.
Watford faces no such problems, as they continue to ride high after last week's 3-1 win over Manchester United. The Hornets have won 2 consecutive matches, and have already netted 10 times in the Premier League, putting them only behind Manchester City (15), Arsenal (12), and Liverpool (11) in terms of goals scored. Walter Mazzarri's side are doing very well, and they should be considered as heavy favourites for Monday's trip to Turf Moor.
Prediction: 1-2
---
You can follow Farzan Mirzazadeh on Twitter @Farzan_4