The Premier League's famous tradition of Boxing Day football is back, with 8 matches scheduled to kick off the day after Christmas. The remaining couple matches will have to wait, with Liverpool hosting Stoke City on Tuesday, and Southampton welcoming former manager Mauricio Pochettino and Tottenham Hotspur on Wednesday.
While all of the other major European leagues enter their winter break, English football ramps up with its hectic holiday schedule. Many teams will be playing 3 fixtures in a week, and the pure essence of Darwinism will be on show, as it becomes the survival of the fittest over the holiday period in the Premier League.
Watford v Crystal Palace (7:30 a.m. EST, Boxing Day)
Five losses in their last 7 league matches have dropped Watford into the bottom half of the table (12th on 21pts). Walter Mazzarri's side have been very inconsistent this season, and it's difficult to know what to expect from the Hornets in any given matchday.
Crystal Palace, meanwhile, only sits one place and one point above the drop zone (17th on 15pts). Alan Pardew was sacked earlier this week after a disastrous calendar year, and Sam Allardyce was appointed to replace him. Allardyce has never been relegated from the Premier League, and he has a strong track record of saving clubs from the drop and then building them into stable top flight clubs. Bolton, Blackburn, West Ham, and even Sunderland fans can all attest to that to some degree.
The Eagles have installed Allardyce as manager to keep them up, and he most definitely will. His reputation as an old-school, long-ball, defensive styled manager is a tad harsh given that he was one of the first managers in the modern era to embrace sports science and statistical analysis, but there is no doubt that Allardyce will solidify Palace's leaky defence (32 goals conceded – 3rd most in the PL). He will place an emphasis on the team's structure and organization, and the football will not be as expansive as Pardew's style of play, which means that it is unlikely Palace will score as many as they did under their previous manager (28 goals scored – 6th most in the PL).
Nevertheless, Allardyce will enjoy working with the likes of Wilfried Zaha and Christian Benteke going forward, and Palace may just pick up a valuable point at Vicarage Road under their new boss.
Prediction: 1-1
Arsenal v West Bromwich Albion (10 a.m. EST Boxing Day)
Arsenal's title challenge has seemingly evaporated after back-to-back 2-1 away defeats at Everton and Manchester City. Those results have dropped Arsenal into 4th place, and more problematically; 9 points behind the leaders in Chelsea. Their poor run proves, once again, that Arsenal no longer has a winning mentality, and their 13-year title-less run highlights exactly that.
Arsene Wenger has been a great manager, but if Arsenal really wants to win their biggest competitions, then the club needs to appoint a new manager in the summer in order to redevelop a proper attitude and rekindle expectations. The grass isn't always greener under a new manager and the possibility of a transition period similar to that of Manchester United's in the post-Fergie era could become a problem of their own, but it is a necessary step if the Gunners want to start winning major trophies on a regular basis once again.
For their part, West Bromwich Albion have enjoyed a fine season thus far, but their record of having accumulated a solitary point in 5 matches against the current top 6 clubs does not bode well for their chances at the Emirates Stadium on Saturday. The Baggies last won at Arsenal in 2010, but their chances of a repeat are slim.
Wenger's men are now nervously looking behind their shoulders with Tottenham Hotspur just a point back and Manchester United also 4 points behind, giving the Gunners a good chance to get back to their winning ways against a tough, resolute West Brom side.
Prediction: 2-0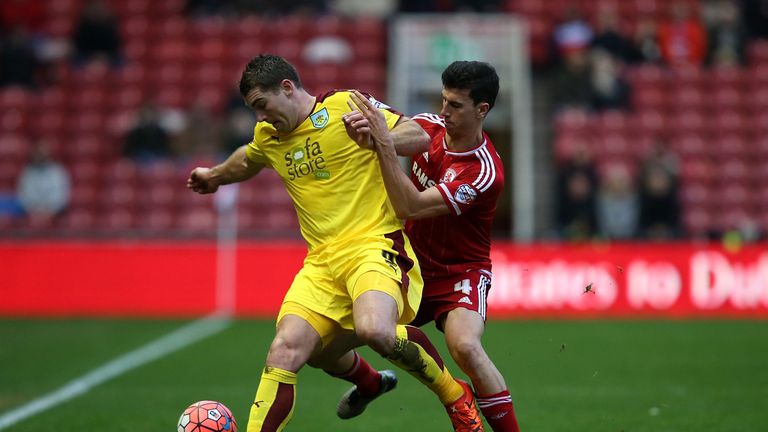 Burnley v Middlesbrough (10 a.m. EST Boxing Day)
Burnley have been phenomenal at home, where they have won all but one of their 17 points this campaign to hold the 3rd best home record in the Premier League. Turf Moor has been quite the fortress for the Clarets, and they have physically dominated most of their visitors. It is their home form that is currently keeping them away from the relegation zone (16th place on 17pts), but they seriously need to improve their record on their travels if they want to give themselves a better chance at survival.
Nonetheless, a home fixture against a Middlesbrough side who are a point better off in the table will most likely be a winnable match for Burnley boss, Sean Dyche. Middlesbrough is generally well organized and defend tightly as a unit, but Burnley's home advantage, as well as their physicality, energy, and aerial prowess should give them the edge they need on Saturday.
Prediction: 2-1
Chelsea v Bournemouth (10 a.m. EST Boxing Day)
Chelsea will not be able to call upon the services of Diego Costa and N'Golo Kante due to suspension on Saturday, which most certainly boost Bournemouth's chances at Stamford Bridge. The Blues are worthy league leaders, and they have been fantastic defensively as well.
Antonio Conte's side have won 12 consecutive Premier League matches, but their last 3 matches have all been 1-0 victories. Grinding out results is always an important trait for sides aspiring to win titles, but the recent margins of Chelsea's wins will concern Conte to some degree.
Bournemouth will be encouraged by that, and the Cherries are likely to push Chelsea all the way. Eddie Howe's side could take advantage of Kante's absence, particularly as they play a free-flowing style of football. Bournemouth won at Stamford Bridge last season, and they may just end Chelsea's winning run this time around.
Prediction: 1-1
Leicester City v Everton (10 a.m. EST Boxing Day)
Leicester City showed remarkable character and determination to claw their way back to a 2-2 draw at Stoke City last weekend. The Foxes seemed down and out after a 2-0 half-tine deficit, coupled with Jamie Vardy's harsh sending off. However, they battled back to snatch a big away point, and Claudio Ranieri should expect his club to build on that 2nd half display against Everton.
It has been a very difficult league campaign for the reigning champions so far, but they don't often lose at home, and Everton will have their hands full at the King Power Stadium. The Toffees have not been able to put a consistent string of results together, and their defensive frailties were once again evident in last Monday's late 1-0 Merseyside derby defeat to Liverpool.
Ronald Koeman is rumoured to be interested in Manchester United's duo of Morgan Schneiderlin, who he managed at Southampton, and his Dutch compatriot, Memphis Depay. Reinforcements cannot come soon enough for Everton, and they may suffer yet another defeat at the home against the Champions.
Prediction: 3-1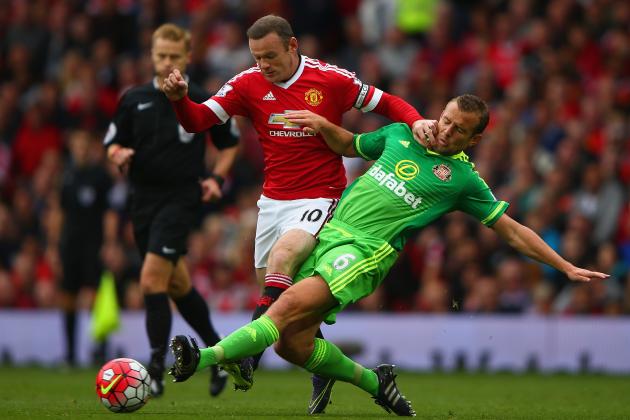 Manchester United v Sunderland (10 a.m. EST Boxing Day)
David Moyes returns to Old Trafford for the 1st time since his dismissal as Manchester United's manager with Sunderland getting set to visit the 20-time English Champions. Moyes's brief and dismal tenure damaged him, as well as his reputation, but in fairness, the Manchester United managerial hot seat remains a challenging one to fill following Sir Alex Ferguson's retirement.
As Moyes alluded to, Louis van Gaal's curriculum vitae and vast experience counted for nothing following his sacking after 2 seasons, while Jose Mourinho has had his fair share of problems so far, with the club currently sitting in 6th place (30pts). However, Manchester United are surging at the moment, and 3 successive Premier League victories (4 in all competitions) have catapulted United back into the top 4 mix, although the title seems beyond them.
United have played very well for most of the season, but their inability to kill off teams and finish games by netting a 2nd goal have hurt them significantly. Mourinho's side drew against Stoke City (1-1), Burnley (0-0), Arsenal (1-1), West Ham United (1-1), and Everton (1-1), despite the overwhelming consensus being that United thoroughly dominated and deserved victories in most, if not all, of those fixtures. More frustratingly, all of those disappointing results came at Old Trafford, other than their draw at Everton.
Nevertheless, United played an enjoyable, attacking brand of football in all of those aforementioned games, and those positive signs are now turning into victories for United. They're playing their best football since Sir Alex Ferguson's retirement, and there is a sense that Mourinho is slowly restoring United to their former glories. The top 4 teams in the Premier League are now nervously looking over their shoulders with United starting to gain momentum, but Mourinho's men must extend their winning sequence to 5 (in all competitions – 4 in the league) in order to keep up the pressure.
Sunderland have only won 3 of their last 14 matches against United in all competitions, but the Black Cats have won 4 of their past 7 league matches, and they have moved from the foot of the table to within a point, and a place, of moving out of the drop zone. Moyes' men have improved defensively, but they continue to heavily rely on Jermain Defoe's goals. They've scored 15 league goals this season, with Defoe netting over half of them (8). Sunderland have lost to every single one of the top 5 clubs, although they have been competitive in most of those matches. However, they will have to keep the red-hot Zlatan Ibrahimovic quiet if they are to give themselves a chance on Saturday, since he is sitting in 3rd place in goals scored in the PL with 11.
Moyes returns to Old Trafford with a point to prove, but Mourinho is showing his 2 failed predecessors that their uninspired and humdrum playing styles have been replaced by an eye-catching, impressive attacking brand of football that the United faithful crave. Sunderland will defend with numbers behind the ball, but United should find a way to keep rolling along.
Prediction: 2-0
Swansea City v West Ham United (10 a.m. EST Boxing Day)
Swansea City have lost 3 of their past 4 matches, including a pair on-the-trot, and manager Bob Bradley is feeling the heat with the Swans stuck in the relegation places. The £12 million sale of their captain and best defender, Ashley Williams, appears more and more preposterous after every game. Swansea concede far too many goals (37 goals allowed – most in the PL), and Bradley seems to be unable to rectify the issue. The defensive personnel is lacking for Swansea, but Bradley must address his team's weak backline to save his job, and to salvage Swansea's season.
West Ham United have shored up at the back, and Slaven Bilic deserves credit for that. Bilic has focused on making his side tougher to break down, and they have picked up 7 points from the last 9 available, which also includes a current 2-game winning streak. The Hammers kept back-to-back clean sheets in those 2 victories, although both fixtures were at home. Last week's 1-0 triumph over Hull City was rather fortuitous though, particularly since Hull were the better side for the large part of their match.
Swansea City need some victories to claw their way out of the bottom 3, but the Hammers should be able to take a share of the spoils from their trip to Wales.
Prediction: 2-2
Hull City v Manchester City (12:15 p.m. EST Boxing Day)
Hull City should have easily won last week at West Ham, but a mixture of misfortune and poor finishing kept the Hammers in the game, before Mark Noble dispatched the winner for West Ham from a penalty. Mike Phelan's side are rooted the foot of the Premier League, but they are still only 3 points adrift of safety. Given the limitations of their squad, and the Tigers have done well so far to remain close to the teams around them, despite being bottom of the pile.
Hull are winless in their last 6 league matches (2D, 4L), picking up 2 points in the process, and they will need to be at their very best if they are to get anything against Manchester City. On the other side, City have won successive league fixtures heading into Saturday's clash at Hull, but Pep Guardiola's side remain unconvincing defensively. Last week's 2-1 victory over Arsenal was a big confidence booster for City though, and if they want to challenge for the title, then they must win this fixture in order to prevent their 7-point gap to Chelsea from widening.
Prediction: 0-3
Liverpool v Stoke City (12:15 p.m. EST Tuesday)
Liverpool picked up a critical 1-0 win last week at Everton to keep pace with the league leaders in Chelsea. The gap remains 6 points, and the 2nd-placed Reds' title hunt goes on. Jurgen Klopp's side have won 2 consecutive matches and picked up successive clean sheets in the process, which is good news for Liverpool. They remain vulnerable defensively, particularly to individual lapses of concentration and errors, but Klopp's decision to drop the much-maligned Loris Karius in goal and replace him with the club's other highly scrutinized goalkeeper, Simon Mignolet, has paid dividends so far in its early stages.
Meanwhile, Stoke City are enjoying a decent season after a dreadful start to their campaign, currently sitting in 11th place with 21 points. The Potters threw away a 2-0 lead at home against a 10-men Leicester City squad in the 2nd half of last week's 2-2 draw, but overall, Mark Hughes should be pleased with the bulk of their work so far this season. However, Stoke City have never won at Anfield, and Liverpool's recently found defensive stability can only benefit them as they seek to pickup their 3rd straight win.
Prediction: 3-1
Southampton v Tottenham Hotspur (2:45 p.m. EST Wednesday)
In their last 3 seasons, Southampton has finished in 8th, 7th, and 6th, respectively. Tottenham Hotspur manager Mauricio Pochettino was in charge of the South Coast club when they finished in 8th, before being approached by Spurs. Ronald Koeman led Southampton to 7th the following campaign, before last season's remarkable 6th place finish earned Koeman a move to Everton (which, at least in the short term, seems a step backwards in pure footballing terms).
Now, Claude Puel is tasked with building on last season's achievements, which would technically mean finishing one spot higher in the table with a spot in 5th place. It's astonishing that Saints have been able to continuously improve on a yearly basis, despite selling their best players in the transfer market for massive profits. Puel's side currently sit in 7th, 6 points off their position from last season. Nevertheless, this is a very good spot for the club, and Puel deserves credit for maintaining their defensive strength, with them only having allowed 16 goals; the 3rd lowest total in the PL. Despite the sales of 2 of their best attacking players in Sadio Mane and Graziano Pelle, he's still been able to implement his own ideas in terms of the team's playing style. Southampton have not been as prolific as in past seasons (17 goals for – 5th fewest in the PL), however, their strong defensive foundation has been very effective.
Another side with excellent defensive pillars is this current Tottenham team, as the Spurs travel to St. Mary's Stadium having won back-to-back league matches. Pochettino's side have the 2nd best defensive record in the Premier League, having only conceded 12 times, and the north London club sit only a point, and a place, behind their big rivals in Arsenal. However, Spurs have yet to hit last season's heights, and they may not even be able to given the fact that all of their rivals have improved and spent a lot of money on new signings, whereas Spurs have been unable the opposite. This has all the makings of a tight affair between a pair of well-drilled teams, and each side may have to settle for a share of the spoils come Wednesday.
Prediction: 1-1
---
You can follow Farzan Mirzazadeh on Twitter @Farzan_4